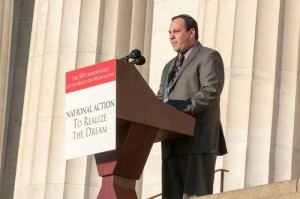 A highlight of Adrian Shanker's activist career was his invitation to speak at the 50th Anniversary of the March on Washington: The National Action to Realize the Dream, which was hosted on August 24, 2013 by Rev. Al Sharpton and Martin Luther King III at the steps of the Lincoln Memorial. Adrian was one of only six LGBT speakers at the March (and the only one representing a statewide LGBT organization), which was a commemoration of the 1963 March on Washington for Jobs and Freedom.
The other LGBT speakers at the march included Mary Kay Henry (President of SEIU), Randy Weingarten (President of the American Federation of Teachers), Sharon Lettman-Hicks (Executive Director of the National Black Justice Coalition) and Donna Payne and Rev. MacArthur Flournoy (both from the Human Rights Campaign). Additional speakers included U.S. Attorney General Eric Holder, U.S. House Minority Leader Nancy Pelosi, NAACP President Benjamin Jealous, Rev. Jesse Jackson, Union for Reform Judaism President Rabbi Rick Jacobs and dozens of other national labor, faith and civil rights leaders.
Leading up to the March, Adrian spoke at the Community College of Philadelphia at an event with Martin Luther King III to mobilize Pennsylvanians to attend the March.
Adrian was asked to speak for two-minutes, here is the text of his speech at the march:
I stand here as a gay Pennsylvanian reflecting on the historic march 50 years ago, a march organized by another gay Pennsylvanian named Bayard Rustin. I stand here reflecting on the civil rights leaders who paved the paths that allow us to stand here today, more equal than we were yesterday, but with so much farther to go before the dream that Dr. King shared will be realized.

But today's march is not just a commemoration. It is a march to mobilize our communities, to work for freedom, justice and equality under the law.

50 years ago, a half-million people marched for jobs.

In Pennsylvania, we can still be fired from our jobs because of our sexual orientation or gender identity. Congress needs to pass the Employment Non Discrimination Act to end job discrimination in America!

50 years ago, a half-million people marched for voting rights.

In Pennsylvania, our governor signed a voter ID law intended to suppress our votes. Congress needs to guarantee broad voting rights to protect our democracy!

50 years ago, a half-million people marched for education.

In Pennsylvania, gay, lesbian, bisexual and transgender youth face bullying in schools every day. Congress needs to pass the Safe Schools Improvement Act to make every school safe for all our children.

50 years ago, a half-million people marched for freedom.

In Pennsylvania, my legal marriage to my husband Brandon is not recognized by my government. In 37 states, same-sex couples do not have the freedom to marry the person we love – it is time for marriage equality for all Americans.

Bayard Rustin once said that "we need, in every community, a group of angelic troublemakers." Let us return to our communities as angelic troublemakers to make the changes that will realize the dream!